Railway Simulation OpenTrack
OpenTrack – Railsystem Simulation
MC offers rail system simulations based on OpenTrack(c).
OpenTrack supports the following kinds of tasks, which will give you the opportunity to optimise your system or take the correct decisions:
Determining the requirements for a railway network's infrastructure
Analyzing the capacity of lines and stations
Calculation of minimum headways (headway calculation), e.g. using the OpenTrack tool Headway Calculator
Rolling stock studies (for example, future requirements)
Running time calculation
Timetable construction; analyzing the robustness of timetables (single or multiple simulation runs, Monte-Carlo simulation)
Evaluating and designing various signaling systems, such as discrete block systems, short blocks, moving blocks, LZB, CBTC (communication-based train control), ATP, ATO, ETCS Level 1, ETCS Level 2, ETCS Level 3 (see also: ERTMS), PTC (Positive Train Control)
Analyzing the effects of system failures (such as infrastructure or train failures) and delays
Calculation of power and energy consumption of train services
Simulation of railway power supply systems (using OpenPowerNet)
OpenTrack allows to model, simulate and analyze the following types of rail systems:
Ou
r MC ra

il infrastructure and operations experts will analyse results and prepare suggestions for improvements which will help you to reduce infrastructure construction/maintenance cost or improve the quality of your operation!
Data
Network data
OpenTrack describes a railway network in special graphs called double vertex graphs. A user can edit the network's topology graphically. Every element of the graph holds various attributes. An edge, for example, holds its length, the gradient, the maximum speed for different train categories and much more. A user can create and manage objects for edges and vertices, and also signals, switches, stations and routes. The following figure shows part of a topology.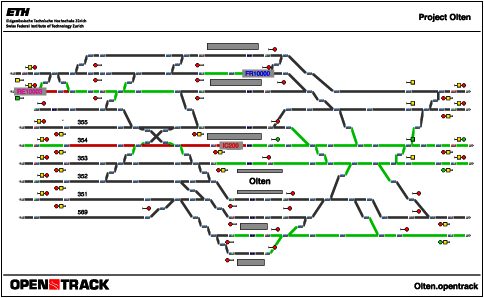 Example of a station (Olten, Switzerland).
Rolling stock data
OpenTrack stores each locomotive's technical characteristics, including tractive effort/speed diagrams, load, length, adhesion factor, and power systems. A database organizes locomotives into groups called depots. A simulated train uses one or more locomotives from a depot together with a number of passenger or freight cars (carriages or wagons). Trainsets are also organized in a database.
Timetable data
The timetable database stores information for each train at each station, including arrival and departure times, minimal stop time, and connections to other trains.
Interfaces
OpenTrack offers interfaces to general data formats (such as ASCII and XML) and to some railway-specific formats (including FBS, Protim, Simu VII and others).

OpenTrack also supports railML, the XML-based standard format for the exchange of railway data. Download the railML product sheet.
| | | |
| --- | --- | --- |
| Timetable data | Import | Export |
| | | |
| railML (Versions 1.0 and 2.2) | X | X |
| ASCII | | X |
| MS Excel | X | X |
| OpenTrack ASCII | X | X |
| OpenTrack XML | X | X |
| Viriato (via railML) | X | X |
| FBS (via railML) | X | X |
| OpenTimeTable (via railML) | X | X |
| Simu VII (IBS GmbH) | X | |
| UK Planning Inferface Format (.PIF-Format, Protim) | X | |
| SimWalk (via railML) | X | X |
| Treno (via railML und Treno-Format) | X | X |
| | | |
| --- | --- | --- |
| Rolling stock data (tractive effort/speed diagrams) | Import | Export |
| | | |
| railML (Versions 1.0 and 2.2) | X | X |
| OpenTrack ASCII | X | X |
| SimWalk (via railML) | | X |
Simulation
The following figure shows how the simulation tool works. Predefined trains run according to the timetable on a railway network. During the simulation, OpenTrack calculates train movements under the constraints of the signaling system and timetable. After a simulation run, OpenTrack can analyze and display the resulting data in the form of diagrams, train graphs, occupation diagrams and statistics.
OpenTrack handles single simulation runs as well as multiple simulation runs where random generators produce different initial delays and station delays.
Animation of the simulation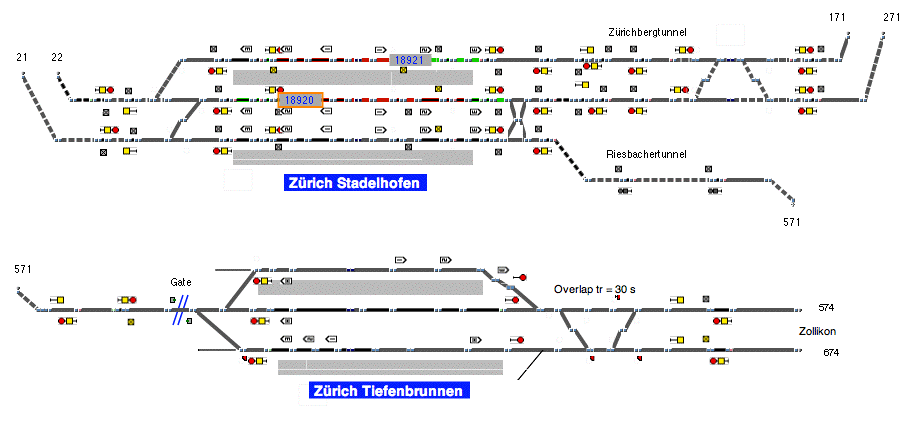 Screenshot of OpenTrack during the simulation.
During the simulation, trains try to obey the given timetable. The differential equations for speed and distance are the basis for calculating a train's movement. The signaling system of the railway network poses constraints. Occupied tracks and restrictive signal aspects may impede a train's progress.
During the simulation, every train continuously stores its speed, acceleration, position, power consumption and other data. This data can be evaluated after the simulation.
The user can watch the simulation in an animation mode, which shows the trains running and lets the user analyze occupied tracks, reserved tracks and signal aspects..
Headway Calculator / Headway Calculation
Based on a number of input parameters, the headway calculator computes the minimum headway between two trains and is able to identify the critical block section. The two trains may vary in type (e.g. intercity, commuter, freight, etc.), route and stopping pattern. The headway calculation works for fixed block (discrete block), moving block and CBTC systems.

Output data
After a simulation, OpenTrack offers a number of evaluations. Evaluations of a train, line or station are possible. For a train, OpenTrack offers diagrams such as acceleration vs. distance, speed vs. distance, and obstructions. For a line, there are evaluations in the form of diagrams of train movements, route occupation and line profiles. Every station produces output about all the trains that used it, including arrival, stopping and departure times.
The user can view output data in a diagram, or export or evaluate it in a readable ASCII table.
Outputs
OpenTrack produces a number of outputs in text and/or graphic form.
Train graph (offline and online visualization). This graphic is also available as a PDF document.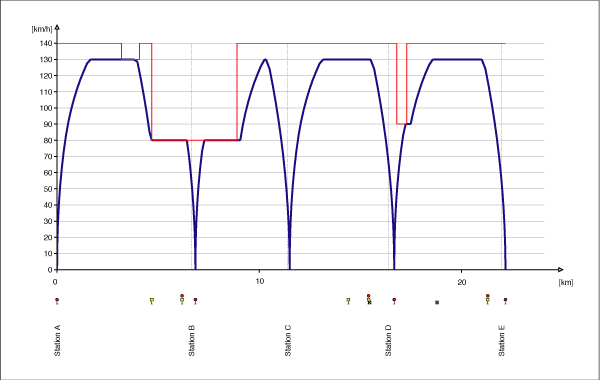 Speed/distance diagram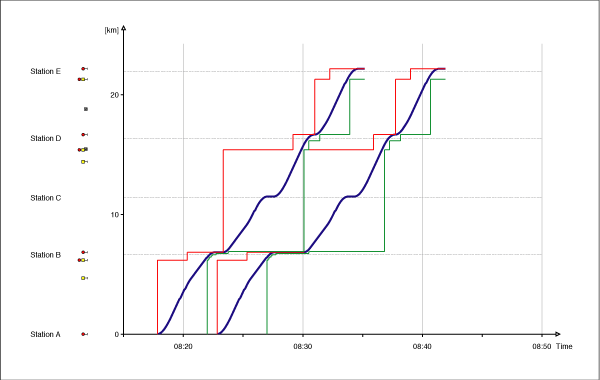 Distance/time diagram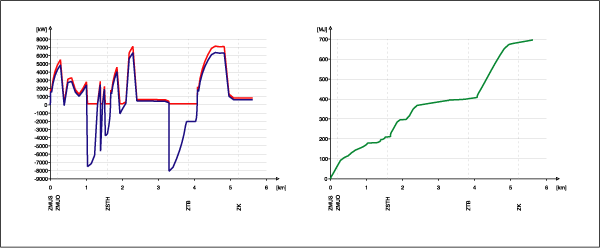 Power and energy output (red:Power in, blue: mech. Power, green: energy/distance-diagram)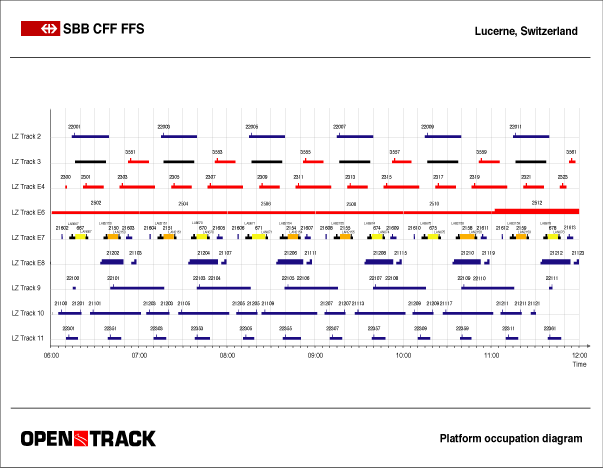 Occupation diagram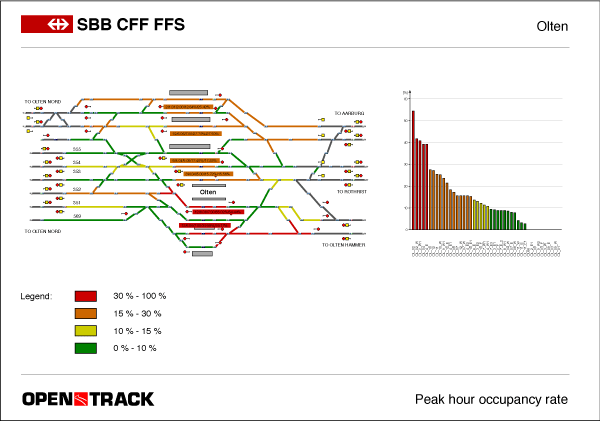 Occupation statistics (example: peak hour occupation percentage). This output is available as a PDF document.

Delay statistics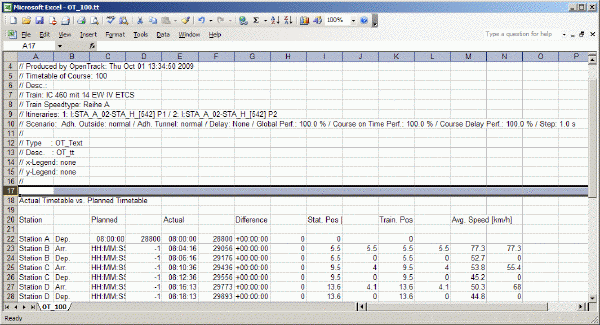 A user can obtain every output in the form of ASCII text, for import into Microsoft Excel for example.
OpenTimeTable is able to visualize and analyze the outputs of multiple OpenTrack simulation runs.
OpenTrack API
OpenTrack offers an application programming interface (API) to connect other applications with OpenTrack. The other application can send standardized commands to OpenTrack and gets defined status messages back from OpenTrack. Technically, SOAP-Messages are exchanged via HTTP (SOAP over HTTP).

Possible applications:
Implementation of customer-specific dispatching algorithms
Comparison of new dispatching strategies
Development and analysis of new concepts in train control (e.g. optimizing energy consumption, reducing delays and conflicts)
In-depth evaluation of railway operations